Texte correspondant en français, La fuite
When they had gone, an angel of the Lord appeared to Joseph in a dream."Get up," he said, "take the child and his mother and escape to Egypt. Stay there until I tell you, for Herod is going to search for the child to kill him." So he got up, took the child and his mother during the night and left for Egypt,
Matthew 2:13,14
A difficult situation. The Refugees' condition fleeing a zone of persecution, violence, and war is well known to the Bible. Joseph's family had to flee from its country Israel to find refuge in the neighbouring country Egypt. The King of Judea, Herod the Great, born at Askalon in 73 BC who died in 4 BC at Jericho, wanted  to kill the baby Jesus. The family was not safe anymore at Bethlehem, it had to move away. Herod desired to know more about the birth of that king-child that was announced by the magi. Why did they come from the east to adore that child supposed to become king? After asking the chief priest and the teachers to report him about the Messiah to come, he was informed that the Messiah was to be born at Bethlehem according to the Scripture (Micah 5 :2). He, then, sent the magi away asking them to come back to tell him where was the child so he could go and worship him. (Matthew 2:8) However, on their return the magi were informed by a dream, not to come back to Herod, so they took another way. (Matthew 2:12) Herod had no intent to worship the child, but to kill him. He could not accept the claim of a child on Juda's throne. Herod the Great was known for his cruelty in assassinating his opponents, even his own. St-Augustin refers in his writings about the massacre of the infants in the Gospel according to Matthew when writing: Everyone execrates the cruelty of Herod in the Gospel, when in his uneasiness on hearing of the birth of Christ, he commanded the slaughter of so many infants. (The works of St-Augustin, reply to Faustus the Manichaeans, Book 12).
Bust of Hérodthe Great
The Escape. Meanwhile, Joseph is warned to leave Bethlehem to go away to Egypt. (Matthew 2:13) At night then, Joseph left away with his family. Realizing he has been outwitted by the magi, Herod became furious and ordered the massacre of all the children of two years and less at Bethlehem. (Matthew 2:16) This macabre indication specifies the age that Jesus must have had at that time. There is a gap of about two years between verses one and eleven of that chapter two in the Gospel according to Matthew. The Greek text is using a specific term to talk about the child Jesus. It does not talk about a newborn child (BREPHOS in Greek) but about a grown child (PAIS in Greek). When the Magi talked to the King, Herod understood that a child of two years old could be a possible rival for the throne of Judea. This could also mean political issue regarding the government of the country.
We, therefore, have the following portrait of a young runaway family: a middle age father, a young mother and their two years old son. They may have had a donkey, so they could travel more easily; the child and the mother could seat on it as they were tired. Donkeys were frequently used in that time for many purposes. Traveling to Egypt was a long and painful walk through desert zones. A distance of about 350 kilometers through hot and dried spaces, a land of rocks, and the blazing sun. Besides which their clothes were not as practical as the one we have today for hiking.
Clothing. Joseph was certainly dressed with a chalouk, a tunic of fine linen, (Talmud of Jerusalem, Shabbat, fol. 15, 4 and Talmud of Babylon, Shabbat, fol. 120, 1.). On top, he must have had a talith, which a rob or a coat done in wool. This coat may have been white or with white and brown strips, as that was commonly used. For some rich people the coat was of vivid colors. He must also have had a leather belt as John the Baptist (Matthew 3:4) or a linen one as the Prophet Jeremiah (Jeremiah 13:1). He certainly wore a suda, which is a turban on his head (Talmud of Babylon, Shabbat, 77 b).
Mary must have had a ampler coat. The women were wearing such clothes that enable them to carry things inside as did Ruth when returning from Boaz field (Ruth 3:15). A linen or wool belt was encircling her waist a few times so it could support whatever she carried. A veil was on her head since she was a married woman and which was as well a protection against the sun. Both of them must have had sandals (SANDALIA in Greek) made of rustic leather and attached with camel leather (Mark 1:7). The soles were made of wood, or bulrushes, or bark that was nailed to the leather. (Talmud of Babylon, Shabbat, fol. 60, 1 ; Joma, fol. 78, 2). They could have had soft leather shoes as well (HYPODEMATA in Greek). However, these shoes were for richer people.
The men were walking with a stick. They could use it to defend themselves against wild animals.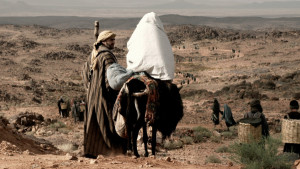 This was a long walk of a few weeks or a couple of months. A good hiker could walk twenty to thirty kilometers a day during a few days. Nonetheless, Joseph's family could not walk as much with a child under the torrid sun. They certainly walked during cooler time of the day and must have stopped walking on the Sabbath day. Whatever they did was not easy, it certainly was challenging.
Map of the trip between Bethlehem and Egypt
An escape with a slaughter in the background as mentioned in the Gospel according to Matthew relates of the many conflicts that the humanity is facing. Throughout history, people moved to flee violence, war, famine, and thirst. They tried to find peace somewhere they were not familiar. Jesus did not escape that reality, and before Him, the people of Israel as well. Constant rejection of a society, or an individual, force to leave things behind to move toward unknown land, not knowing what one will find. The incertainty of the following day, the rejection of those protecting themselves against such a massive movement, the shake-up caused by such a flow, so many factors that make these forced relations uncomfortable.
What can we say about it?
The cause of this escape is the cruelty of Herod which expresses what we find in today's world. How many people undergo conflict, violence, exaction. So many fights which disturb and force thousands even millions of people to quit everything behind in order to go somewhere else to find a new establishment. Everyone looks for peace and yet, there is no garantee life will be free of trouble. We need a vision to look behind the horizon. Like Joseph who did not hesitate to follow the recommandations of the messenger to leave to Egypt, a country he never saw but maybe heard a little.
Joseph testifies of his trust in the warning he received. He could have raised questions, asking if the escape was a solution. He was, after all, feeling well in Bethlehem with his family. Why should he leave everything and travel a dangerous journey to start anew. He had confidence in those words. This confidence led him. Like Abraham whom the Lord called to leave his country and moved toward a new country that would eventually be given to his descendants. (Genesis 12:1-4) This confidence gives strength to advance in what may seem impracticable paths without any goal toward the unknown.
However, for Joseph, this assurance means that God is with him. He receives guidance and support that is what the angel announces in the text. Joseph can be confident. He departs. This trust in God is important for us all. It gives assurance in the future. Even in a period of test, the Lord walks with those who trust in Him; this is opened to all.
We often consider God to be surly, hard and absent from humanity. However, did He not walk with the people of Israel in the desert? Did He not sustain the people in adversity? As God walked with Israel, Jesus walked with His disciples and with all those who gathered around Him. He let Himself be touched and approached (Matthew 9:20). He talked with everyone. He healed the sick (John 5:11), He made the blind to see (Mark 10:52). He drank, He ate (Mattew 9:10), He wept (John 11:35), He suffered (Hebrews 5:8). All these attitudes testify the love and concern of God. A God who wants a close relationship. This is a hand stretch out to us, even better, it is a hand that He seized to walk with us.
Yet I am always with you; you hold me by my right hand.  Psalm 73:23
If we are strangers wanderers on the earth we know we are not alone, for God is with us until the end of the journey.
All these people were still living by faith when they died. They did not receive the things promised; they only saw them and welcomed them from a distance,admitting that they were foreigners and strangers on earth. Hebrews 11:13
As for us, should we not stretch our hand to others and give support to walk an extra mile? (Matthew 5:41) as Jesus walked with us and is still doing so today.